Application can range from VSP-seismic to reservoir monitoring to microseismic to fracture detection. This clamping module can be used to build VSP-tools,  multilevel seismic monitoring stations, and temporary or permanently installed  sensors.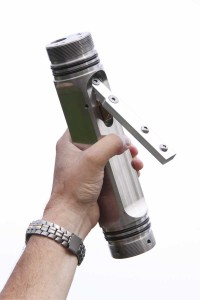 The clamping arm is driven by an electrical motor. Clamping force is controlled by the motor current. Standard arm will  accomodate boreholes from 60 to 170 mm. Extended arms increases the range to 250 mm. Short arm version provide stronger locking power in smaller boreholes.
Clamping module CM60/180 has a diameter of 60 mm and a core length of 180 mm. Both ends are double O-ring sealed and have metric threads, designed for pressures of 250 bars and more.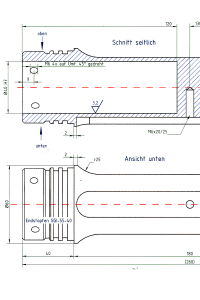 Three standard 15 Hz omnidirectional  geophones are mounted inside of the ∅40 x 120 mm chamber.
Typical configurations
Several versions of this clamping module are available to meet specific client demands. Following is a short scenario of typical configurations of a three component borehole geophone:
Clamping module CM60/180 equipped with:
Three analog geophones and a 12 V DC-motor. This is a pure analog version for near surface applications. Geophones and motor are connected by multiconductor cable and watertight connectors. No downhole electronics. The analog geophone signals can be recorded uphole by conventional seismic recording systems. Clamping force will be controlled by the motor current from the surface. This geophon unit is retrievable by reversing the motor current. This configuration is 50 cm long, weight 6 kg.


---

Three analog geophones with digital motor electronics, digital compass and digital inclinometer, also connected by multiconductor cable and watertight connectors. This is an orientated version for near surface applications. The orientation in earth magnetic field and the verticality of the geophones is known. The analog geophone signals can be recorded uphole by conventional seismic recording systems. Clamping force is controlled by a microcontroller downhole.  A lightweight surface unit with RS-232 or RS-485 and microcontroller temporary controls motor current, compass and tilt while setting or retrieving the the geophone unit. This configuration is 60 cm long, weight 7 kg.


---

Three geophones with 24 bit digital electronics including compass and inclinometer is the digital version for near surface applications. Large data memory and data processing downhole and flexible high speed data transmission on relatively short cable is the ideal solution high quality seismic in medium depth boreholes. Also possible downhole data storage on SD-card for long term observations. This configuration is 70 cm long, weight 7 kg.


---

Three geophones with 24 bit digital electronics including compass and inclinometer is the digital version for VSP applications – see BGK1000. Depth up to 2500 m, medium data rates on standard 4-wire logging cable. Downhole oversampling and correlation for vibroseis application.  This configuration is 80 cm long, weight 8 kg.


---

Multilevel VSP-Tool can be composed by a number of 3-component digital geophone units connected with inter tool cables of variable length.


---

and more …