BGK1000 is a digital data acquisition system for borehole seismic surveys. It consists of the BGK1000 Probe, the BGK1000 Trigger Unit and Acquisition software on a Windows PC.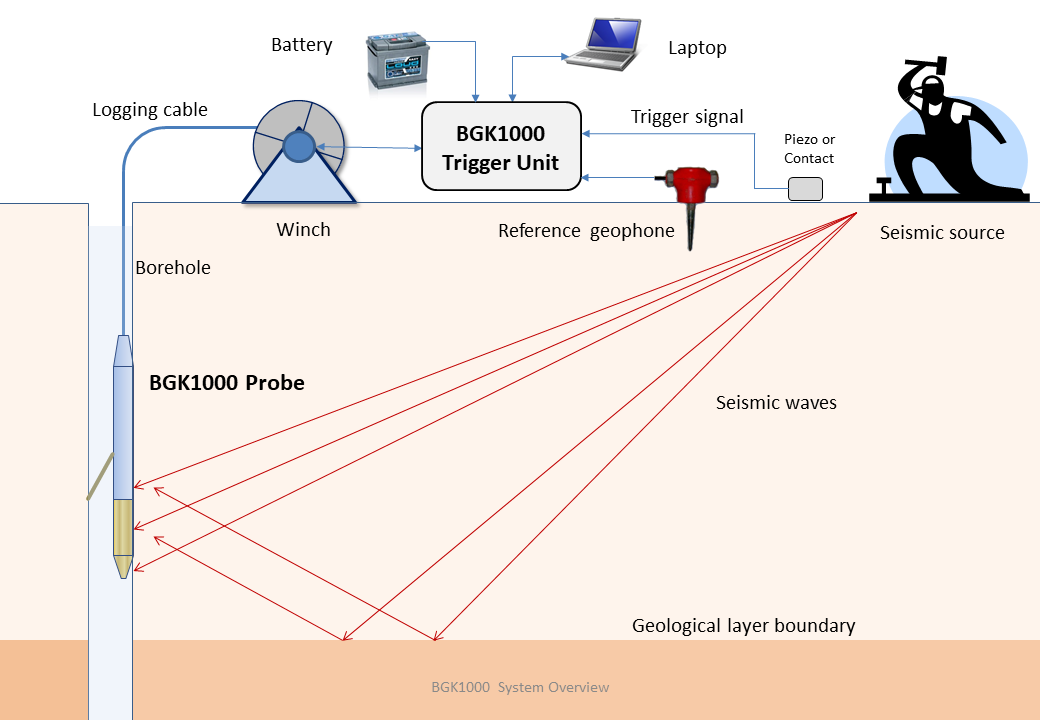 The BGK1000 Probe is the heart of the acquisition system. It features a rich set of sensors i. g. 3 geophones, hydrophone, compass, connected to powerful electronic boards incl. 24‐bit AD‐converter and DSP. Due to a strong clamping arm it ensures high quality results even in critical boreholes. It operates on standard 4‐ conductor logging cable up to 2,000 m depth and in borehole diameters up to 250 mm (10 ").
The BGK1000 Trigger Unit is the RS‐485 bus master and communicates with the Probe over two wires of the logging cable. It also supplies the Probe with 72 V DC. The Trigger Unit is controlled from a PC via USB and needs a 12 V 3 A DC power supply. A trigger event synchronizes data acquisition in the Probe. A reference geophone at the surface allows precise timing analyses.

A laptop with acquisition software controls the data survey, communicates with the trigger unit via USB and stores the seismic data records in SEG‐2 files.
The surface equipment is usually a winch with logging cable and a seismic source (drop‐weight or vibrator). The seismic source produces seismic waves in the underground and emits a trigger signal from a piezo or a hammer switch.

Main features
Probe with three geophones (3C) see Data Sheet BGK1000 or
Probe with additional hydrophone (4C) see Data Sheet BGK1000H
Ideal for VSP-surveys in depth down to 2000 m
Runs on standard 4 conductor wireline
Probe mechanics
Length = 0.8 m

Diameter = 60 mm
Weight in air = 8 kg
Pressure = 200 bar
Temperature = 0 – 70 C
Clamping range  up to 200 mm
Clamping force = 240 N
Clamping time full range = 30 s
Cable head = Gearhard Owen 4 pin
Probe sensors
Geophones Sunfull PSO15-8000
Compass Honeywell HMC6352
DC-Motor Maxon 12 V 6 W
Probe electronics
Supply voltage: 36-72 V DC, 60 mA (stand by)
Communication: 2 wire RS-485
A/D Converter: 4  channel 24 Bit delta sigma
Sample rate = 48 kS/s
Downhole oversampling
Trace length max = 65.000 samples (65 sec. at 1 ms)
DSP = Blackfin 548, 64MB SDRAM
Selectable clamping force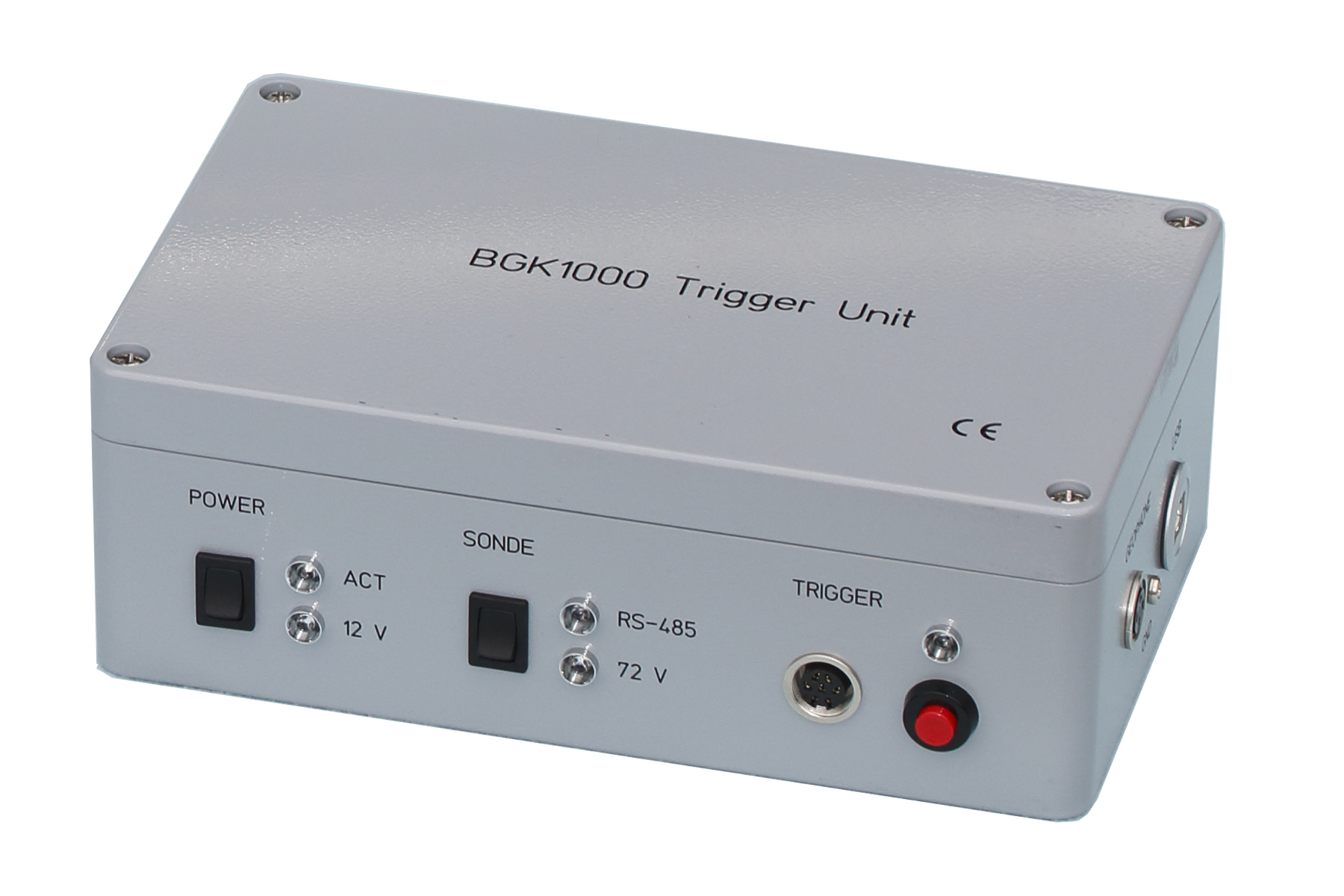 Trigger Unit
Supply Voltage: 12 V DC 0.5 A
USB
One channel uphole geophone
Trigger input TTL pulse
Connectors to winch
4 conductor logging cable

Armor is GND
+72 V on line 2+4
RS-485 on line 1+3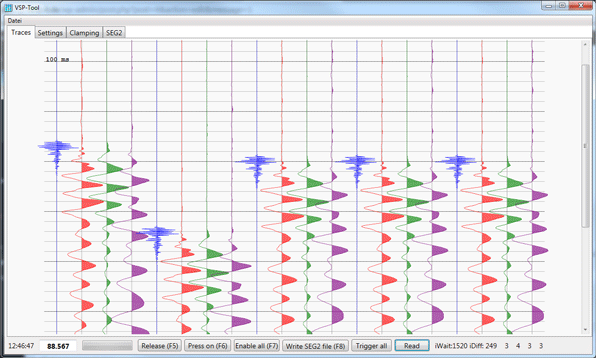 VSP-Tool.exe
 Windows Software VSP-Tool
Runs on XP, Vista, Win7, Win8
SEG2 Data files
Colored wiggle trace display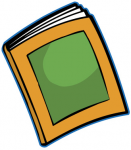 The BGK1000 is manufactured by HINZ Messtechnik GmbH and distributed by Geotomographie GmbH